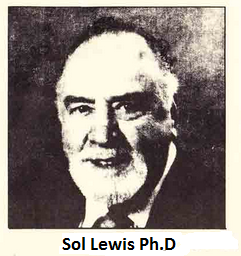 Sol Lewis was the founder of the Michigan Metaphysical Society.
Sol was a frequent participant at Warren Light Center gatherings. He was an active and popular speaker, teacher, and instructor who often brought a number of people from Michigan with him.
Besides being knowledgeable in metaphysics and an impressive inspiring teacher, Sol was also highly skilled in Hypnosis and in using Hypnosis for positive live changes.
His family has graciously given permission for us to host Sol's book Awareness and several audiotapes on this site which you can find by clicking on Sol's name to the right of this post.
To address errors posted here and originally on the Warren Light Center com site, his son David Lewis gave us the following correction. – Editor
Sol Lewis was a great supporter of WLC and spent many summers there.

Sol WAS NOT a Jewish refugee, nor did he spend any time in a concentration camp… or have numbers tattooed to his arm.

He was born and raised by Jewish parents in Detroit, MI, in 1918, drafted by the US Army and served in Europe during WWII. He was shot in the legs and taken prisoner by the Nazis and spent 6-9 months in a German POW camp—Stalag IX-B near Bad Orb in Hesse, Germany—the worst of the worst.

When he was liberated from the camp (by, I believe, Patton's army) and sent home on the Queen Mary Hospital Ship, weighing 93 pounds.

He spent time in army hospitals where the doctors were using hypnosis to help treat soldiers with certain injuries and they taught my Dad the basics behind hypnosis. After a long recovery and return to civilian life, he continued his study of hypnosis and a new-found interest in comparison religions and psychic phenomena that came out of personal experiences he had while in prison camp. That led to his lifelong work and expertise in those fields.

Dad was proud of his Jewish heritage but considered himself a man of all religions. He took aspects of each that he admired and made them his own. We celebrated a lot of holidays!

David Lewis
__________________________________________